When my daughter was staying with me a few weeks ago, we had a day out at our favourite needlework shop. Cross stitch is her main craft and I always find myself wanting to cross stitch when she's here (she says I'm easily influenced). Anyway, the shop we love is called
The Patchwork Rabbit
and it's in the village of
Bromham
in Wiltshire. We'd been online customers for several years before realising that the actual shop was near enough for us to visit.
The drive down took us past
Silbury Hill
and several
White Horses
which reminded me of my childhood - I grew up in North Hampshire where ancient history is never far away. I remember going to watch the archaeological dig at
Danebury Ring
in the 1960s and it was a favourite spot for days out and picnics. Anyway, back to the cross stitch ...
The Patchwork Rabbit is only a small shop but it's crammed with all sorts of needlework supplies. There's patchwork fabric (naturally), masses of embroidery threads by
Weeks Dye Works
and
Classic Colorworks
, tools, buttons - treasures wherever you look. But, most exciting of all, there are cross stitch charts.
Hundreds of beautiful designs, from the best American companies -
Little House
and
Country Cottage
Needleworks and
Lizzie Kate
, to name just a few - and many more. I love the designs by the French company
Jardin Prive
and there were lots of those to ooh and aah over. While my daughter worked methodically through them I flitted here and there, getting thoroughly over-excited! the shop owner, Karla, is very friendly and helpful, even when you spend hours choosing and keep her from her lunch.
In the end we settled on a few charts each and then chose the special threads to go with them. I got this one ...
I like designs in one colour like this and the abstract, spiral pattern is just my sort of thing. As you can see, I bought some of the lovely fabric hand dyed by
Weeks
to stitch it on. I've never seen this fabric here in the UK before and it's lovely.
I also got a Christmas chart, there are so many wonderful Christmas designs we could easily have just bought those. This one makes me laugh every time I read it.
I bought the special dotty fabric to stitch it on and some of the threads. By the way, these have wonderful names, the three here are called 'Brown Bear', 'Lemon Grass' and 'Licorice Red'.
I don't have pictures of my daughter's charts but they were lovely too. She even managed to buy one that wasn't Christmassy! We thought we'd been quite restrained but that was only because we've got so many projects at home to work on already. Also, now that we've decided to make regular visits to the shop, we can afford to space out our purchases a bit.
I can really recommend a visit to The Patchwork Rabbit and, if it's too far away for you, do visit the
online shop
. As well as all the things I've talked about here, Karla offers several
Autoship or Monthly Projects
where you can sign up to get a new pattern each month. You can opt for just the pattern or add in threads and fabric - even the special little buttons that add the finishing touch.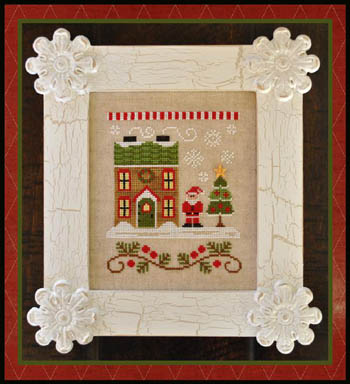 Santa's Village - just one of the Autoship Series




Some of the autoships run between specific dates but, often, you can join in at any time. One day I shall treat myself to one of these.
All that shopping had made us hungry so we followed it up with a (very cold) picnic in
Savernake Forest
, another of our old haunts. Normally I just drive through on my way to visit family in Andover so it was nice to be able to stop for once. We then had a quick look round the charity shops in Marlborough where I found an absolute bargain ... but that had better wait for another post.